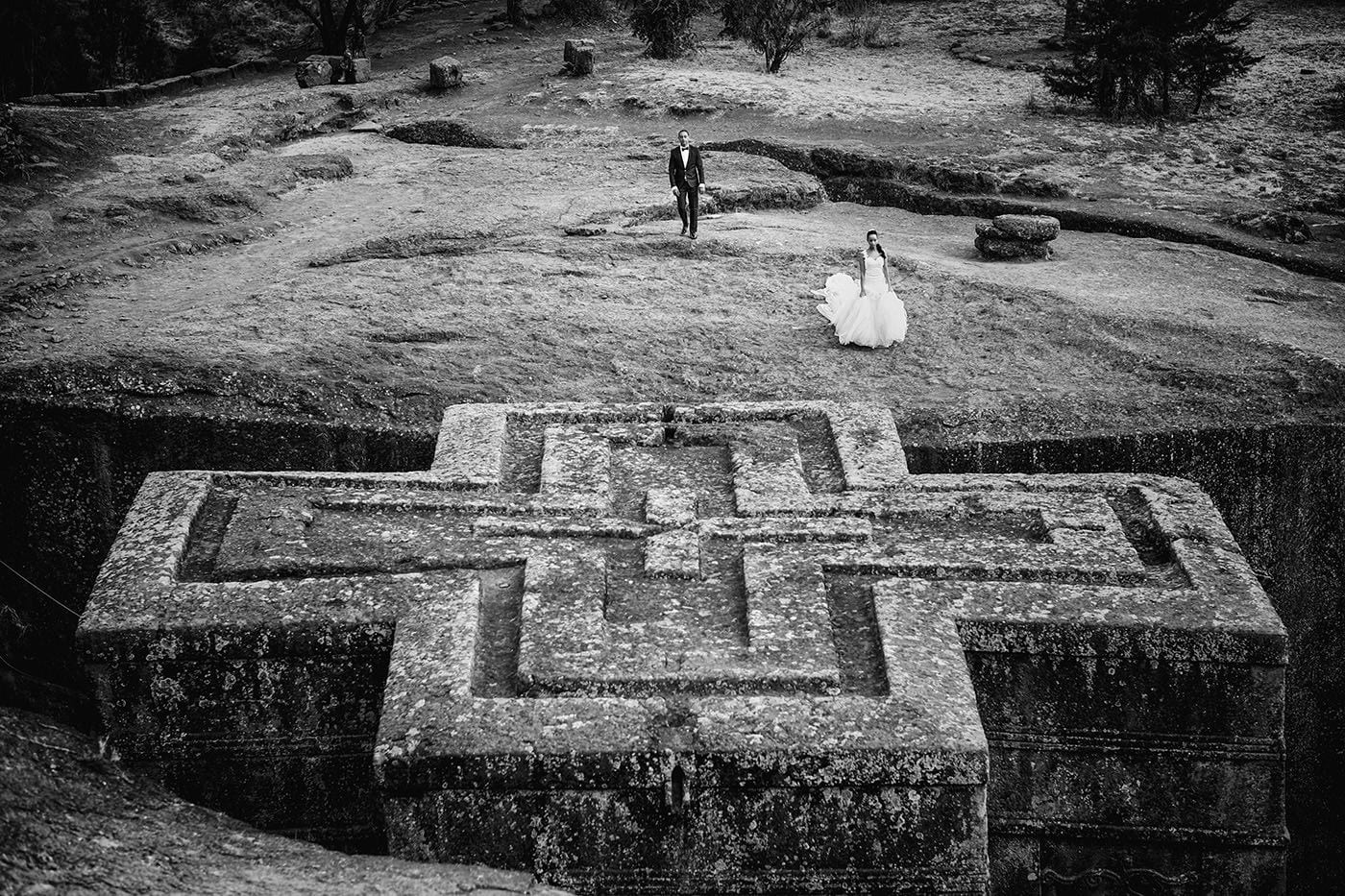 Because Ethiopian weddings are always grand, they can be quite exhausting to fully cover. Usually, the events will take place over several days. As a result, there will be a lot of energies throughout, and long hours of dancing. Many group shots too. But most likely it will be very rewarding! Above all, locations, people, traditions are among the most photogenic a wedding photographer could think of.
Bagi and Henock's wedding was filled with those moments. The bridesmaids were always super enthusiastic and happy, the bride and groom danced non-stop, the guest laughed out loud. For the couple session, we flew up North to Lalibela — one of Ethiopia's holiest cities with churches carved into the rocks. Brilliant!
Discover the Traditions and Culture of Ethiopia
Learning about the culture and traditions of Ethiopia is a good idea and will help you get the most from your visit. Understanding what you should expect and how people interact ensures you will make the right choice and have pleasant interactions during your stay. Those who live here take family life and friendships seriously, and they often use formal and courteous greetings. While Ethiopia has many cultures and religions, Christianity is the most common. It's normal for children to move back in with their aging parents to help support them once they are no longer able to care for themselves. Certainly, the families of married couples pull their resources together and go out of their way to care for each other.
Top Wedding Venues in Addis Ababa
Before you plan your trip and decide where you will stay once you arrive, learn about the top venues that Addis Ababa has to offer. You will find a range of hotels from which you can choose depending on your goals and needs. The Nexus Hotel is a great option if you are on a budget. Talk to your Wedding Photographer Ethiopia about it. On the other hand, you can stay at Hilton Addis Ababa or the Sheraton Addis Ababa for a couple hundred dollars per night. And you can enjoy all of the high-class amenities for which the chain is known. Staying here gives you access to several museums and attractions that you won't want to miss. If you are up for the challenge, you can embark on a guided tour through the forest and travel through historic towns along the way.
Wedding Photographer Ethiopia